Are you buying a house or are you building it from scratch? Well, every house will have a parking lot, whether you build it yourself or the builder. You should always make sure that there is enough lighting in the parking lot area. Look for a professional and reliable company who can provide you with the right kind of lights for this area. It is always better to go for LED parking lot lighting because these are eco friendly and more affordable. We, at MMJ Electric, can be the right choice for you. We are an established and reliable company which has been in this field for more than 25 years. We can provide you with various kinds of electric services, right from ceiling fan, lighting, central vacuum, outdoor lighting, emergency generators to electric panel upgrades, home automation, phone and data communication, and so on. We are known for our highly skilled and reliable professionals who can provide you with all kinds of electrical services, right from installation to repairs. So, if you are located in areas like Fort Lauderdale, Sunrise, FL, Boca Raton, Pompano Beach, FL, Tamarac, or Davie, FL, then you can opt for us.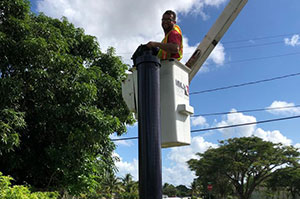 Here, we have put together a few smart benefits of installing parking lot lighting in your home outdoor. Take a look. 
You should always make sure that dark areas like parking lots should be well lit after sunset because it adds more brightness in the area so that you can see everything clearly. This can prevent accidents and also helps in spotting intruders or criminals hiding in this area, waiting for an opportunity to harm you. So, you can be more safe with lighting in this area.
The overall value of your property can increase to a great extent with lighting in your parking lot. Since this adds more safety, it can be more convenient for all the dwellers. You can get better returns if you ever plan to sell the house or rent it out.
So, if you want to choose us for your parking lot lights, contact us today.