You are making the right connection if you need an electrical contractor in Pompano Beach, Florida. MMJ Electric is a local, family owned and operated business that is firmly established as a reliable community resource. We go the extra mile to exceed the expectations of our clients each and every day, and we take our reputation very seriously.
Pompano Beach is one of the most desirable cities in Broward County, and it attracts countless visitors each year. The winter weather is ideal, so it is a haven for golfers and outdoor enthusiasts of all kinds. We know the area well, and we enjoy the time that we spend providing electrical repairs for locals.
Simply put, from Terra Mar to Country Club Isles to High Ridge Estates, whenever you need an electrical contractor in Pompano Beach, help will be just a phone call away.
Residential Electricians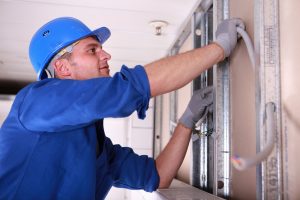 Homeowners can certainly count on us for a wide range electrical repairs and installations. We work on indoor and outdoor lighting, ceiling fans, central vacuum systems, electrical panels, intercoms, and other electrical devices and systems. Whole home automation is a very popular innovation, and this is in our wheelhouse as well.
The benefits of living in southeast Florida are clearly evident. However, there is one drawback when it comes to the weather. Severe storms and hurricanes can cause electrical outages that can be lengthy in some instances. A home generator can provide peace of mind, and this is another area of expertise for our Pompano Beach, Florida electricians.
Commercial Electrical Contractor
In addition to the work that we do for homeowners, we serve the business community. No job is too large or too small for our commercial electricians, and we offer a wide range of different services. Plus, if you are interested in a fire alarm system and fire alarm monitoring, this is a major area of specialization for our company.
Electrical Contractors, Are Here to Help!
Our company is guided by a master electrician that has been serving members of this community for over a quarter of a century. We take our work personally, and we treat people the way that we like to be treated when we are engaging service providers.
Whenever you need an electrician in Pompano Beach, Florida, we can be reached by phone at 954-876-1536. If you would prefer to get in touch electronically, simply send us a message through our contact page.