You have arrived at your destination if you have been searching for a Boynton Beach, Florida electrician that you can rely on for quality products, repairs, upgrades, and installations. We have been serving our neighbors in this beautiful Palm Beach County city for well over two decades, and we greatly value the relationships that we had made with locals over the years.
The city is a great place to live and work in its own right, but it is embedded within the exciting South Florida metropolitan area, so residents have everything imaginable at their fingertips. We can get to you in a flash if you live anywhere in town, from City Center and Chapel Hill out to the Route 441/Boynton Beach Blvd. section in the west, and we are available to respond to emergencies around-the-clock.
Residential Boynton Beach, Florida Electrician
There are some extraordinary possibilities to explore if you are interested in upgrading the electrical systems in your home. Whole home automation is changing the playing field, and we have a great deal of expertise in this area. We would be more than glad to explain your options to you with regard to home automation and lighting control. Plus, our Boynton Beach, Florida electricians can also install closed-circuit security cameras that can provide total peace of mind.
Homeowners can rely on us for ceiling fan installations, electrical panel upgrades, lighting fixture work, and low-voltage installations. We install chandeliers and vacuum systems, and we can satisfy all of your outdoor lighting needs, whether you need lighting for safety, aesthetic impact, or both.
Commercial Services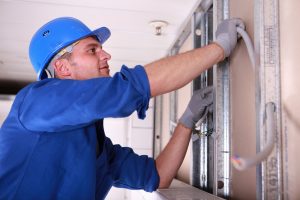 In addition to the extensive residential work that we do, we can also be called upon if you ever need a commercial electrician in Boynton Beach, Florida. We provide all the services that we described above for area businesses, and we offer commercial fire alarm systems as well. You should certainly work with an electrical contractor if you are unprotected or marginally protected, and we can take care of the alarm system monitoring on an ongoing basis.
Contact MMJ Electric!
We are certain that you will be more than satisfied with our work in the field, but our commitment to the customer experience starts from the first moment that you reach out to us on the phone. Whenever you need a quality, affordable electrician in Boynton Beach, Florida give us a call at 954-876-1536.