6 qualities of an electrician that set him apart from the rest
A skilled electrician possesses several qualities that set them apart from others in their field. These qualities not only make them effective at their job but also build trust with clients and contribute to their success. MMJ Eletric can help you with electrician in Tamarac, Pompano Beach, FL, Sunrise, FL, Fort Lauderdale, Davie, FL, Boca Raton and surrounding regions.  
Here are six qualities that distinguish an exceptional electrician: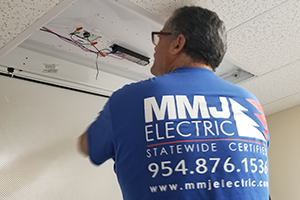 An outstanding electrician has a deep and up-to-date knowledge of electrical systems, codes, and regulations. They can troubleshoot complex issues, design efficient electrical systems, and install or repair electrical components with precision and safety. 
Electricians must work with intricate wiring and systems where even the smallest mistake can lead to significant problems, including safety hazards and expensive repairs. A keen attention to detail ensures that all work is done accurately and safely. 
Electricians often encounter unique challenges on the job. A great electrician has strong problem-solving skills, enabling them to diagnose issues quickly and develop effective solutions, even in high-pressure situations. 
Electrical work can be hazardous, and safety should always be a top priority. Exceptional electricians are well-trained in safety protocols and consistently follow them to minimize the risk of accidents or injuries on the job site. 
Effective communication is crucial for electricians to understand clients' needs, explain technical concepts to non-experts, and collaborate with other professionals on construction projects. Strong interpersonal skills help build trust and ensure client satisfaction. 
Adaptability and Continuous Learning:

 
The electrical field is constantly evolving with new technologies, codes, and regulations. Exceptional electricians are adaptable and committed to continuous learning. They stay updated on industry changes and are willing to expand their skills to remain at the forefront of their profession. 
These qualities not only make an electrician stand out but also contribute to the safety, efficiency, and quality of their work, ultimately earning them a strong reputation in their field. Please call us without hesitation.