EV Charger Installation in Coconut Creek, Coral Springs, Deerfield Beach, Margate, Pompano Beach, FL, and the Surrounding Areas
Are you making the switch from a gas-powered car to an electric one? With over 6.8 million electric cars on the road worldwide, more people than ever are opting for cleaner energy, lower costs, and even more powerful engines.
Whether you need a home charging station for your electric car or you're installing a charging station for your business, turn to MMJ Electric for EV charger installation in Coconut Creek, Coral Springs, Deerfield Beach, Margate, Pompano Beach, FL, and the surrounding areas.
MMJ Electric's team of expert commercial electricians installs quality electrical systems and undergoes continuous training to understand the ever-changing world of electric car technology. We install EV (all-electric vehicle) chargers of all kinds, including level one, level two, and level three charging stations, in residential and business areas alike. We want to find the best EV charger fit for you.
Juice Box Pro 32

Juice Pedestal
Juice Pump
Juice Stand
Electric Car Charger Installation for Businesses
An electric car charger installation at your commercial business creates a higher demand for your company.
7% of U.S. citizens rely on electric vehicles, and almost 40% are considering purchasing one in the near future. These customers look for businesses where they can charge their cars while they shop. Implementing charging stations will attract more potential customers to your business.
Google Maps will direct electric car users to charging stations like yours when searching locally. In addition to developing long-term business relationships, you will take in additional revenue from electricity sales.
EV Charging Station Installation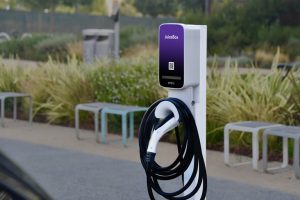 MMJ Electric installs a variety of EV charging stations manufactured by Transportation Solutions & Lighting. When deciding on charging station installations, you'll have many to choose from, including:
Wall Connectors: This wired setup charges cars faster than mobile connectors, providing 52 miles of range per hour of charging.
Residential EV Charging: A single JuicePro installation is common in private garages and carports and usually uses less than 7.2 watts per charge.
Commercial EV Charging: These larger installations are perfect for businesses or apartment complexes. TS&L's JuicePedastal offers two charging ports, multiple payment options, and the ability to adjust prices depending on demand and time of day.
Are you looking for car charges that take less time at the station, giving you more time on the road? Do you want to expand your business by drawing in more electric car owners? Count on MMJ Electric to supply your charging needs.
For our EV charger installation services in Coconut Creek, Coral Springs, Deerfield Beach, Margate, Pompano Beach, FL, and the surrounding areas, contact us today!