Our company, MMJ Electric, will be ready to spring into action whenever you need a reliable electrician in Tamarac, Florida. We bring over a quarter of a century of local experience to the table, and we are family owned and operated, so we feel a direct connection to the people we serve. This Broward County city is a fantastic place to call home, and we know it very well. We can provide prompt service to clients in the Rock Island Road/Bayberry Lane neighborhood, City Center, and all other parts of town. To sum it up in a simple statement, MMJ is the electrical contractor Tamarac, Florida can rely on for impeccable work and value-based pricing.
Residential Electrician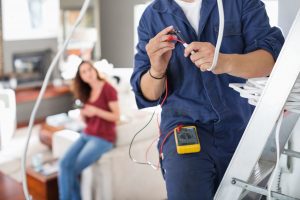 Every homeowner will need electrical services from time to time, and we can handle any and all assignments. If you need a ceiling fan repair or installation, some assistance with a central vacuum system, or an electrical panel upgrade, simply give us a call and we will get the job done. Our Tamarac, FL electricians also work on indoor and outdoor lighting, including chandelier installations and landscape lighting. Plus, whole home automation systems are becoming the norm for plugged-in homeowners, and this is another area of expertise for our company.
Tamarac, Florida Commercial Electrician
Over the years that we have been in business we have developed vast capabilities, so we have the ability to serve the business community as well. If you need an electrical contractor for a commercial building addition, we would be more than glad to assist you. We work on all existing electrical systems, and we can be engaged to install upgrades. You can also rely on us if you would like to have a fire alarm installed, and we provide monitoring services. Surveillance cameras can allow you to monitor activities inside and outside of your commercial property, and we can be engaged to provide the ideal CCTV solution for you and your business.
Contact MMJ Electric!
Our electricians in the field do impeccable work, and we stand behind it with a twelve-month installation workmanship guarantee. We provide free estimates, and we respond to emergency situations around the clock, seven days a week. If you ever need an electrician in Tamarac, Florida for any reason call MMJ Electric at 954-876-1536. You can alternately get in touch through the contact page on this website if you would prefer to go that route.