Are you searching for an electrical connection in your new house or your new office? Nowadays, everyone is quite conscious about their environment and prefers to make ecologically viable choices. That is why many appliances also require low voltage wiring. This makes sure that the energy resources are less exhausted and you also have to pay fewer energy bills. But first, you must look for an electrician to install this kind of wiring in your house or your office. We, at MMJ Electric, can be the right choice for you. We are an established and reliable company which has been in this field for more than 25 years. We bring you a wide variety of electrical services for your ceiling fans, central vacuum, air conditioners, and lighting to even fire alarms, burglar alarms, intercoms, and even your satellite and phone connections, etc. We are known for our highly efficient, knowledgeable, and well-trained electricians along with our customer-oriented approach. So, if you are based in areas like Fort Lauderdale, Boca Raton, Boynton Beach, Tamarac, Deerfield Beach, FL, or Margate, FL, then you can opt for us.
Here, we have put together a few factors to keep in mind while choosing an electrician for your low voltage wiring. Take a look.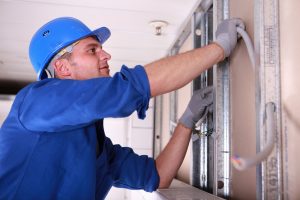 Experience means credibility. You can only rely on an electrician who has been in this field for a long time. This provides them with the added advantage of understanding the system better and will also prepare them for challenges that might come their way. You can expect better and sound service if you go for an experienced electrician.
The next factor that you have to keep in mind is the reputation of the electrician in the market. Go through the client reviews and ratings to understand the kind of services he or she provides and whether you will be satisfied with it or not. This will help you make a much more reliable choice.
So, if you are thinking of choosing us, contact us now.