Regardless of whether you are homeowner or a businessman, both your commercial and residential areas will require electricity in order to function better. Without electric power, you will not be able to do any work and along with being a major inconvenience at home, it will also be a huge loss for your business. Therefore, make sure that you fix your electrical problems as soon as possible. Hire an electrician and keep him or her standby for your needs. We, at MMJ Electric, can help. We are a reputed company offering all kinds of electric services. Right from low voltage installations, lighting fixtures, LED lighting, outdoor lighting, ceiling fans, central vacuum to fire alarms, CCTV camera system, intercom, phone and data, and all kinds of electrical panel upgrades, we can help you with everything. So, if you are from areas such as Boca Raton, Boynton Beach, Coconut Creek FL, Coral Springs FL, Davie FL, or Deerfield Beach FL, then you can rely on us without any further delay.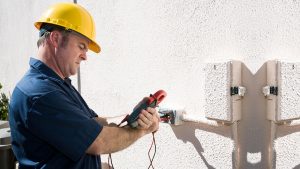 Here, we have put together a few key signs that you have found a good electrician for your house or office. Take a look. 
If you see that your electrician offers an efficient service and carries out the work very carefully, then you will know that he or she is quite responsible. They are aware that electrical work is quite sensitive and might lead to accidents too. So, they are making sure with utmost care that the work is done most efficiently.  
If you find an electrician who has been in this field for a considerable period of time, you can be rest assured about the work they will do. They will obviously have the experience so they can work on your electrical needs too, however complicated it is.  
So, if you notice these signs in our electricians too, then you can get in touch with us today.