Do you need to install a new light in your house? Or have the ceiling fan stopped working? Or do you want to upgrade your satellite and cable in your office? Or do you want to install a new CCTV camera? No matter what your need is, what is common to all these requirements is an electrician. You will require a professional and experienced electrician to take care of these services. We, at MMJ Electric, can be the right choice for you. We are an established and reliable company which  Has been in this field for over 25 years. We can provide you with a wide variety of electrical services, right from ceiling fans, central vacuum, data and communication, fire alarms, to even CCTV cameras, outdoor lighting, home automation, and so on. We are known for our state of the art technology which enables us to provide you with a variety of electrical services along with our sense of professionalism, efficiency, and at most dedication towards all our clients. So, if you are located in areas like Fort Lauderdale, Coconut Creek, FL, Sunrise, FL, Boca Raton, Pompano Beach, FL, or Margate, FL, then you can opt for us.
Here, we have put together a few things to check about an electrician before hiring. Take a look.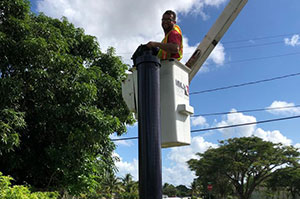 One of the first and foremost things that you should be looking for an electrician is their experience in this field. Skills and knowledge is definitely important but this is a job that you learn more with experience. You have to check if the electrician is familiar with the sort of issue you are facing so that you can expect a more sound service from them.
An electrician will also charge you some money for the services rendered. You have to make sure that these charges are suitable for your budget. That is why you should inquire about the rates in advance and match it with your budget before taking a decision.
So, if you are interested in hiring us, contact us today.