Are your lights not working? Do you need repairing of your air-conditioners? Or do you want to install a generator or any other appliance? All these kinds of tasks are common to every household. And that is why you need an electrician. After all, electrical works are urgent and require the immediate attention of an electrical contractor. We, at MMJ Electric, can be the right choice for you. We are an established and experienced company which has been in this field for more than 25 years. We can provide you with a wide range of electrical services for both commercial and residential services. Right from lighting fixtures, ceiling fans, fire alarms, intercoms, CCTVs, and generators to electrical panel upgrades, complete home automation, central vacuum, smoke detectors, outdoor lighting, phone and data, satellite and cable, and so on, we can help with every kind of electrical systems' installations and repairs. So, if you are from Davie, FL, Boca Raton, Coconut Creek, FL, Fort Lauderdale, Coral Springs, FL, or Sunrise, FL, then you can opt for us without any hesitation.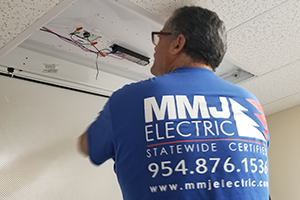 Here, we have put together a few things to look out for in an electrician. Take a look.
Electrical systems are important and you need professionals to handle these services. Their knowledge and experience is essential to carry out these services. That is why you should check their level of expertise before taking a decision.
Another thing that you have to see about your electrician is their reputation in the market. You should go through their client feedbacks or online ratings to understand the sort of service you can expect. This will help you make a reliable choice and save you from fraudulences.
So, if you are thinking of choosing us, then contact us today.