Do you have a broken light at home? Or are you ceiling fans not working? Do you need to fix your data or communication lines at office? Regardless of what kinds of electrical systems you need fixing, you need to hire trained and knowledgeable professionals to carry out your electrical work. We, at MMJ Electric, can help. We are one of the most experienced and reputed companies which offer you a high-quality electrical service for both commercial and residential services. Whether you need to install a new device, repair something broken, or maintain any electrical line, we can help. We are a licensed, insured, and reliable company which has the right tools to fix all kinds of electrical systems. With our committed service and affordable charges for the electrical repairs, we have become one of the most reputed companies in areas like Boca Raton, Boynton Beach, Coconut Creek FL, Coral Springs FL, Davie FL, and Deerfield Beach FL. So, if you want to opt for an electrician to help you with your electrical problems, then you can choose us.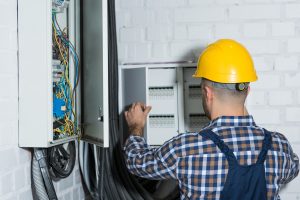 Here, we have put together a few things to check about your electrical service. Take a look. 
You have to make sure that the electrical service you are hiring to repair your lights or air-conditioners, or any other electrical item has the expertise to carry out the repair work. They should have the knowledge regarding how the system works in order to identify the problem and then provide a solution for it. 
Electrical issues are an emergency. You need to hire an electrician who understands this and promptly responds to your calls. If you need them, he or she should be at your service as soon as possible before it becomes a chaotic situation which could cause massive accidents. 
So, if you think we can be the right solution for you, get in touch with us now.