Are you noticing a spark in your circuits? Is your outdoor lighting dysfunctional? Do you get a strange smell when you switch on the ceiling fan? Or do you want to install a new data connection at home? Well, electrical problems are countless. Every other day, you will realize that you need to hire an electrician for these electrical repairs.We, at MMJ Electric, can be the right choice for electrical services. We have qualified, experienced, and dedicated electricians who can solve all kinds of issues that you are facing with respect to things that work on electric power. We are known for our quality services, variety of electrical repairs, and affordable rates. So, if you are from areas such as Coral Springs FL, Davie FL, Deerfield Beach FL, Fort Lauderdale, Pompano Beach FL, or Sunrise FL, then you can rely on to fix your electrical issues.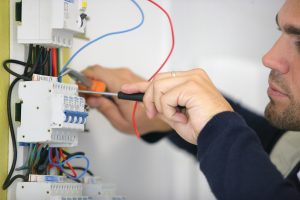 Here, we have put together a few reasons why you should always take your electrical repairs seriously. Take a look. 
Accidents

 
Electrical issues can be minor at once but if you neglect it for days and let it continue to disrupt your life for a long time, it might cause a severe accident. And it might lead to some fatal consequences as well. So, it is better that you get this issue fixed as early as you can. 
Inconvenience

 
Imagine working without light at home, staying without the fan in this hot boiling weather, or tripping on the stairs due to the broken outdoor lighting. Isn't it inconvenient and uneasy? In order to get a relief from such a situation, you must get the electrical problems fixed immediately. 
Expense

 
If you fix an electrical issue right at the nip of the bud, it will cost you much less. But when you let the issue grow until it becomes a major problem, then it will cost you a lot more.  
So, if you want to repair your electrical lines, then quickly contact us today.