Whether you are a homeowner or a commercial business owner, everyone has electrical needs. Both offices and houses have electrical systems which need to be taken care of. Otherwise, all the important machines and even the circuits and fuses will give away soon. After a certain point in time, there are obvious damages in these electrical systems which need to be repaired. That is why you need to look for a company offering professional electrical repairs.  We, at MMJ Electric, can be the right choice for you. We are one of the most established and reliable companies which have been in this business for more than 25 years. We can provide you with all kinds of electrical services right from installation to even repair services. We are known for our MFR warranty and our 24/7 emergency services. So, if you are based in areas like Fort Lauderdale, Boynton Beach, Sunrise, FL, Tamarac, Pompano Beach, FL, or Coral Springs, FL, then you can opt for us.
Here, we have put together a few things to check about a company offering new electrical repairs. Take a look.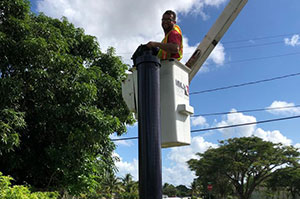 Professionals
You need to understand that the electrical repair will be provided by the electrician of the company. That is why you need to make sure that the professional staff of the company is equipped with the right kind of knowledge and training so that they can help you with such repair services.
Charges
You also have to keep in mind that the amount charged by the company should be affordable for you. That is why you must take quotes in advance and match it with your budget before making the decision. If needed, you can always compare these quotes with others and then choose wisely.
So, if you are thinking of choosing us for your electrical repairs, contact us today