Whether you are a residential owner or a commercial one, there are certain requirements in your office or home which are common to both. One of the most useful things that you have to set up first is the electrical units. Without electricity, be it work or household chores, nothing can be done conveniently or comfortably. Apart from installing things, you might also need them later if there is an electrical problem and needs repairing. That is why you need to hire professionals because these are serious issues and might even cause a life risk. We, at MMJ Electric, can help. We are reliable and experienced contractors offering all kinds of residential and commercial electrical services. We have been in this field for more than 25 years and are known for our quality services and affordable pricing. With our dedication and customer-oriented approach, we have become one of the preferred companies for electrical repairs. So, if you belong to areas such as Boca Raton, Coral Springs, FL, Davie, FL, Fort Lauderdale, Pompano Beach, FL, or Coconut Creek, FL, then you must choose us.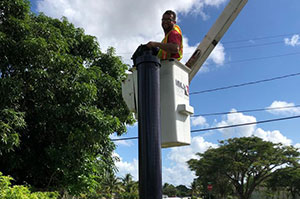 Here, we have put together a few essentials to keep in mind while choosing an electrical repair service. Take a look. 
You have to know about the reputation of the company before hiring them for your electric repair needs. Make sure you go through their former clients' reviews and ratings online to understand if you can expect a reliable service from them or not.
Next, you must make sure that you check the price charged by the company for such repairs. Take quotes in advance and then compare these with other companies too in order to ensure you are hiring the one which suits your budget most perfectly.
So, if you are interested in choosing us, then contact us now.