The electrical lines in your home from the backbone of your residential structure. However, with eventual wear and tear or internal issues, wires may go face damages of different scales. At this point, as soon as you recognize a problem with your electrical lines, you should schedule for a professional repairing. Many homeowners take on these kind of home improvement jobs by themselves in order to save money but while handling simple jobs like fixing a leaky faucet is comparatively easier, repairing electrical lines is not just complicated but also dangerous. Hence, come to us at MMJ Electric, where we have 25 years of experience in dealing with a variety of residential and commercial electrical problems including issues in outdoor lighting, ceiling fans, lighting fixtures and much more. Since we have worked for clients from different industries, no job is too challenging for us! We wish to exceed your expectations with our constant customer support and highly affordable prices. If you need electrical repairs in places like Boca Raton, Boynton Beach, Coral Springs FL, Davie FL, Fort Lauderdale, Sunrise FL, etc. then you can rely on us.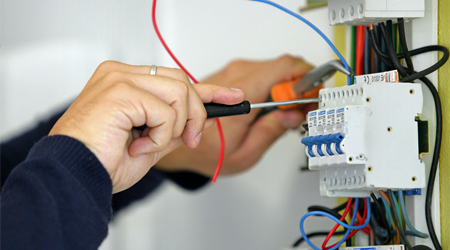 Here's why you should trust only professionals for these kind of jobs. Take a look. 
When you hire a professional, you can rest assured that he/she will be licensed and certified to the job for you. They will be specifically trained to carry out dangerous tasks in your home. Along with that, these experts will be insured as well.
Calling experts for electrical issues is also a matter of safety. Homeowners who try their hand at fixing wiring without the proper knowledge are likely to deteriorate the condition even further and also may end up injuring themselves. 
So, if you want to make the safer choice, then call us now at 954-876-1536.