Are you setting up a new house or are shifting to a new office? There are certain basic things that you have to take care of whether you are moving to a new office or a new house. Without a basic electrical system, survival can be a challenge. You will need to at least fix the lighting, ceiling fan, phone, and data communication systems along with other appliances. That is why it is important to hire an electrical contractor for your house or your office. We, at MMJ Electric, can be the right choice for you. We are one of the most experienced and reliable companies with more than 25 years in this field. We can provide you with all kinds of electrical services, starting with ceiling fans, lighting fixtures, landscape lighting, phone, and satellite, to even CCTV and surveillance cameras, alarm systems, electrical panel upgrades, and so on. We are known for our installation warranty of one year along with free estimates. So, if you are located in areas like Fort Lauderdale, Sunrise, FL, Boca Raton, Pompano Beach, FL, Boynton Beach, or Coconut Creek, FL, then you can opt for us.
Here we have put together a few questions to ask your electrical contractor before hiring. Take a look.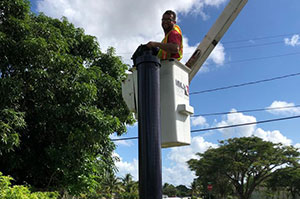 Electrical services are an emergency. Without proper electrical services at home, your lives can be extremely uncomfortable and inconvenient. That is why it is important to choose an electrical contractor who is available 24/7 so that they can help you with all kinds of electrical requirements at any time you need them.
What kinds of electrical services do you provide?
Usually, all electrical services can help you with installation as well as repair and maintenance services. But you still need to make sure that the electrical contractor you are choosing can provide you with the particular electrical service you are looking for. That is why it is better to take a list of services that they can help you with.
So, after getting these answers, if you are thinking of choosing us, contact us today.