Do you need to repair any kind of electrical appliances? Are your electrical networks at home or your office dysfunctional? Do you want to install a new device in your home or office? No matter what you want to do, for all these tasks, you will require a good electrical contractor first. We, at MMJ Electric, can be the right choice for you. We are an established and reliable company which has been in this field for more than 25 years. We can provide you with a wide range of services when it comes to your electrical networks, right from outdoor lighting, central vacuum, phone and data cable, fiber optics installation, and home automation to even fire alarms, sensitive surveillance, and so on. We are known for our state-of-the-art technology and highly smart, efficient, and reliable professionals who can help you with all such electrical services. So, if you are from Fort Lauderdale, Parkland, Coconut Creek, FL, Coral Springs, FL, Boca Raton, or Boynton Beach, then you can opt for us.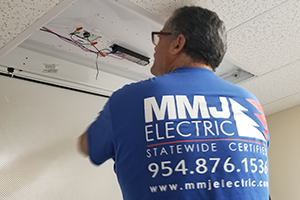 Here, we have put together a few questions that you should ask an electrical contractor before hiring.
It is important to know if the electrical contractor is available 24/7 because you never know when you might need them. It is better to hire a company which is available all time so that if there is an emergency when it comes to your electrical networks, you can always get their help.
Is there a guarantee for the services?
It is wise to ask for a guarantee whenever you are getting a service. This helps you to understand if the company has faith in their own services. And at the same time, if there is a guarantee period, then you can get a free service if something goes wrong within that guarantee period.
So, after getting these answers, if you are thinking of hiring us, contact us now.