While half the country has already purchased an electric vehicle(EV), the other half is planning to buy one; the need for an electric car charger has increased a lot in the recent past. MMJ Electric has a variety of electric vehicles and hence is quite adept at electric car charger installation. Most of our customers want a charging station at such a place that they can shop or east while their car is getting charged up and hence our engineers know where to install the charging stations to attract the maximum crowd. We have partnered with Transportation Solutions & Lighting who manufactures our EV charging stations. With MMJ Electric, the people of Coconut Creek, Coral Springs, Deerfield Beach, Pompano Beach, and Margate will get to experience an unmatched level of excellence which is second to none.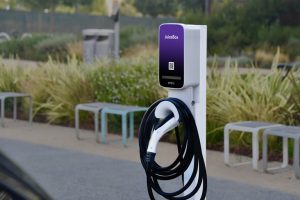 Below we have mentioned 3 common types of electric car chargers available to us. Take a look.
Wall connectors
These wall connectors are wired setups. These chargers provide 52 miles of range per hour of charge and hence charge the vehicles faster than any mobile connectors. The only restraint with this is that it is stationary in one place.
Residential EV charging
These generally use less than 7.2 watts per charge and hence have become a preferred choice for many people. This is a single JuicePro unit that can be used both in private garages as well as carports.
Commercial EV Charging
This is a perfect option for commercial purposes like businesses or apartment complexes. The JuicePedestals have 2 charging points. It comes with multiple payment options along with the ability to adjust the prices at any time of the day.
So, if you are looking for the latest electric car charger installation devices for your electric vehicles, you can get in touch with us at 954-876-1536.