Do you run an office of your own? Or are you planning to start one? No matter what kind of industry you are catering to, there are a few basic amenities that are required in every commercial space. To begin with, you will need electrical services for all kinds of devices and equipment in your office. In order to install these or repair the electrical problems, you will need a commercial electrician standby at all times. We, at MMJ Electric, can be the right choice for you. We are one of the most established and reliable companies which have been in this business for more than 25 years. Right from ceiling fans central vacuum, landscape lighting, satellite, and cable to even data and communication, home automation, security systems, electrical panel upgrades, and so on, we can help you with everything. We are known for our highly smart and well-trained electricians along with our customer-oriented approach. So, if you belong to areas such as Fort Lauderdale, Sunrise, FL, Pompano Beach, FL, Davie, FL, Light House Point, or Coral Springs, FL, then you can opt for us.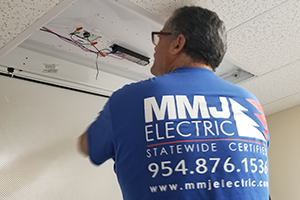 Here, we have put together a few things to check about your commercial electrician before hiring. Take a look.
Are you available 24/7?
It is always more beneficial if you can get a company which is available 24/7 so that you can get your electrical problems resolved at the earliest. When it comes to your business, time is money. And since electrical issues are an emergency, you need to get these resolved as soon as possible. Otherwise, your business could suffer.
What kinds of electrical services have you given in the past?
There are various kinds of electrical needs that you might have. You should ask the electrician about their past services so that you can understand their capabilities and level of expertise better. This will help you make a more reliable choice.
So, after getting these answers, if you are thinking of choosing us, contact us today.