With innumerable electrical devices in everyone's home, having an electrician on call always is a wise decision. MMJ Electric is the best choice for you if you are looking for a commercial electrician. Since our inception, we have slowly and steadily grown over the years due to our hard work, dedication, and exemplary customer service. Since we are a locally owned company, we offer personalized service to our customers as we treat them as our very own people. For the people of Fort Lauderdale, Sunrise, FL, Pompano Beach, FL, Margate, FL, and Pompano Beach, FL, we offer a wide range of electrical services that range within the business community like panel upgrades, smoke detectors, ceiling fan repairs and installations, and lighting fixture installations.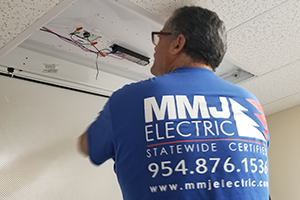 Below we have mentioned the 2 basic skills that every commercial electrician should possess. Take a look.
Essentially an electrician is a problem solver as every day they get a call when something or the other malfunctions. They face new challenges every day that need to be resolved by them. They should have a thorough knowledge of how to deal with situations when an outlet is sparking, or a wire has given way mid-way due to which the electricity has tripped. They find out the most cost-effective way to find the solutions to all your electrical problems.
An electrician primarily has to be quite flexible as this is not a typical 9 to 5 job. There is no fixed schedule as such as most of the work happens on a call basis. There might be crises at any given time of the day when you might get a call and have to make emergency runs. One day you might be overloaded with work while the very next day might be a quiet one.
So, if you are planning to hire a well-qualified commercial electrician, you can get in touch with us.