Are you thinking of starting a new office? Or do you already own a commercial space? Commercial officers require a number of office machines and other kinds of equipment to ensure a smooth  productivity. But along with this, the basic thing that you will require is a good electrical support. For all these machines to work and to get a comfortable atmosphere at your workplace, you will require electricity. You must hire a commercial electrician for all kinds of installations or repairs. We, at MMJ Electric, can be the right choice for you. We are an established and reliable company which has been in this field for more than 25 years. We can provide you with a wide range of electrical services, right from central vacuums, electrical panel upgrades, emergency lighting, generators, lighting, ceiling fans, and air conditioners to even satellite and cable, phone and data, security cameras, access control systems, and so on. We are known for our installation warranty and our customer oriented approach. So, if you are from Fort Lauderdale, Sunrise, FL, Boynton Beach, Davie, FL, Pompano Beach, FL, or Tamarac, then you can opt for us.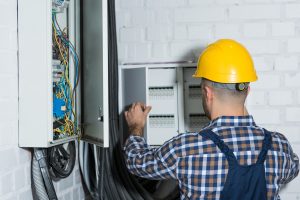 Here, we have put together a few factors to keep in mind while hiring your commercial electrician. Take a look.
To begin with, you should make sure that the electrician you are hiring has immense experience in this matter. They should have worked for several companies to understand how the electrical system of an office works.
Another thing that you have to take care of is that the electrician must have a good reputation in the market. You should go through their client reviews and feedback to understand if he or she is reliable and offers a quality service.
So, if you are thinking of hiring us, contact us today.