If you own or manage a business, there's a good chance you've considered employing a commercial electrician for some of your electrical requirements. Your company is your livelihood, therefore ensuring the safety of the building and the people who work inside it is critical. One of the best things you can do is hire a qualified local commercial electrician. At MMJ Electric, you may count on us to work on existing facilities, but if you're building a facility, new construction painting is another source of knowledge for our commercial electrical contractors. We offer a wide range of different electric services to our business customers.
Here are the following reasons why you should use a commercial electrician for your signal installation or repair: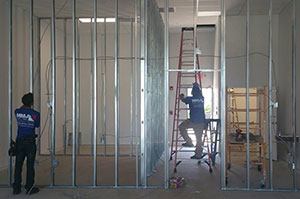 It's a safer option: Electricians are trained to understand how electricity works and behaves, as well as how to follow proper building code methods and processes. This extensive training will significantly reduce the likelihood of electric shocks or fires, as well as the risk of injury or death.
You will save time: Commercial electricians are trained to use a variety of tools to troubleshoot issues with your electric-powered signal. We can do so much more quickly and safely than the average home or business owner. You will save time and have total peace of mind with this rapid and precise repair.
Licensed, insured, and guaranteed: One of the most compelling reasons to choose a professional electrician is that they're licensed, insured, and capable of guaranteeing their work. If your electrician makes a mistake with the installation, they can come back and reconnect it.
If you need a commercial electrical contractor in Fort Lauderdale, Sunrise, FL, Pompano Beach, FL, Davie, FL, Light House Point, and Coral Springs, FL neighborhood, give us a call at 954-876-1536 and we'll take care of the rest.