Are you starting a new office? Or do you already own one? No matter what business you are doing, if you have a commercial space, there are certain equipment and facilities that you have to keep ready. One of the most important such facilities would be your electrical systems. Without this, the lighting, fan, or even any kind of office machine will not work. That is why if you are setting up a new office or are planning on remodeling one, you should first hire your commercial electrical contractor. We, at MMJ Electric, can be the right choice for you. We are an established and reliable company which has been in this field for more than 20 years. We can provide you with a wide variety of services, right from ceiling fan, lighting, outdoor lighting, emergency lighting to even security systems, data and phone, satellite and cable, and so on. We are known for our reliable and professional electricians along with our customer oriented approach. So, if you're based in areas like Fort Lauderdale, Boca Raton, Coconut Creek, FL, Deerfield Beach, FL, Margate, FL, or Parkland, then you can opt for us.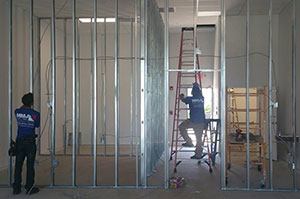 Here, we have put together a few things to check about your commercial electrical contractor before hiring him or her. Take a look. 
Whatever electrical systems that you are installing, you should make sure that you're getting a good period of guarantee for this. If something goes wrong within the guarantee, then you can always question the seller and get a free exchange or replacement easily.
You must understand that electrical problems or requirements are an emergency. You might need to install or repair any kind of electrical network or device at any hour of the day. That is why it is preferable that you hire a company which works for 24/7.
So, if you are thinking of choosing us, contact us today.