Are you running a commercial business? Then, you must be having a commercial building as well. There are a few basic amenities that should be present in every office building. To begin with, all the basic machines that you have in your office need to be run on electricity. You also need to have a proper running electrical system for the HVAC systems and the phone and communication. That is why before setting up a new office, you should get in touch with a commercial electrical contractor. We, at MMJ Electric, can be the right solution for you. We are an established and reliable company which has been in this business for more than 25 years. We can provide you with all kinds of electrical services, starting from the vacuum, ceiling fans, lighting fixtures, and outdoor lighting to even alarm systems, surveillance cameras, phone and data, satellite and cable, and so on. We are known for our one-year installation warranty and MFR warranty on the materials. So, if you are from Fort Lauderdale, Sunrise, FL, Coconut Creek, FL, Parkland, or Boynton Beach, then you can opt for us.
Here, we have put together a few things to know about your commercial electrical contractor before choosing. Take a look.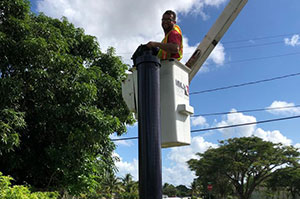 Before hiring a commercial electrical contractor, you should know about the kind of reputation they have in the market. That is why you should go to their reviews and ratings given by former clients to understand the kind of standing they have. This will also give you an idea of this sort of work they do.
getting the electrical work in your office is one of the most important responsibilities. That is why you need to make sure that the contractor you are hiring has experience in carrying out such services. Be it repair or installation, they must have been handling such cases in the past.
So, if you are thinking of hiring us, contact us today.