MMJ Electric has earned a reputation as the most trusted electrical contractor in Sunrise, Florida. For over a quarter of a century, we have done everything possible to help our friends within the Broward County business community prosper, and we are not slowing down anytime soon. People rely on us for quality work and competitive pricing, and this is something that we will always deliver.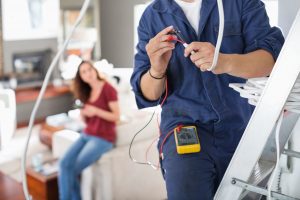 This city is special in a number of different ways, and it offers residents some very unique opportunities to enjoy their spare time. The Florida Panthers are beloved by local hockey fans throughout the metropolitan area, and they play their home games at BB&T Center in Sunrise. There are also a multitude of events that locals enjoy every year, including "Woodstock," the Harvest Festival, and the Earth Day Festival.
It is a great place to call home, and it can be a lucrative location to operate a business as long as your electrical system is running smoothly. However, if you ever experience any problems, our Sunrise, FL commercial electricians we will be here to help, whether you are in the Sunset Strip/NW 91st Way area, the Harrison Parkway/Sunrise Boulevard section, City Center, or any other part of town.
Commercial Fire Alarms and Security Systems
We provide a comprehensive range of electrical services, including high-tech whole building lighting control systems. Plus, we are the leading resource in Broward County for commercial fire alarms. The state-of-the-art detection technology that we utilize is extremely sensitive, and a relatively minor investment in a high-quality fire alarm system can potentially save you a great deal of money in the long run. In addition to the system installation, we provide around-the-clock monitoring at our UL Certified Central Monitoring Station.
Security systems are another area of expertise for our Sunrise, Florida commercial electricians. If you need an electrical contractor to install surveillance cameras throughout your facility, we can explain your options to you and provide a turnkey solution. We can also install security cameras to monitor sensitive areas outdoors.
World Class Service!
The hands-on work that our commercial electricians do in the field is obviously at the core of our business. At the same time, we place an emphasis on world class customer service every step of the way. Whenever you need an electrical contractor in Sunrise, Florida, call MMJ Electric at 954-876-1536.