If you are a business owner or facility manager in Coral Springs, Florida, a commercial electrician will be needed from time to time. When you establish a relationship with MMJ Electric, an electrical contractor you can rely on will always be just a phone call away. And when we say "always," we mean it literally, because we provide 24 hour-a-day emergency service.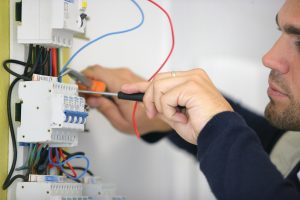 This Broward County city is widely acknowledged as one of the best-run municipalities in the country. It is clean, it is safe, and it is a great place to operate a business. We should know, because we have been serving members of the business community for over 25 years, and we look forward to building new relationships day by day.
From the Coral Ridge Drive/Wyndham Lakes Boulevard North section down to the Riverside Drive/West Atlantic Boulevard area, MMJ Electric is the commercial electrician Coral Springs, Florida can rely on for quality work at affordable prices.
Full Service Electrical Contractor
There are some electricians that have basic skills and limited capabilities, but we go in the opposite direction. As we have stated, when you work with us, you will have the help that you need at your fingertips under all circumstances. We can be called upon to do simple repair work, and we also work on full-blown, large-scale new construction projects and everything in between.
In our business, technology is constantly evolving, and we have always been fully cognizant of this dynamic. Our professional Coral Springs, Florida electricians stay up-to-date at all times, and in fact, we look over the horizon and anticipate innovations before they are widely embraced. You can rely on us for whole building lighting control, lighting protective systems, outdoor lighting solutions, and so much more.
Fire Alarms and Surveillance Cameras
Security is a must for all businesses, and this is a particular area of expertise for our electricians. If you need a Coral Springs, Florida electrical contractor to the deploy surveillance cameras throughout your facility, look no further than MMJ Electric. We are also the go-to resource for commercial fire alarms in Broward County, and we can handle the monitoring chores to provide turnkey assistance.
Contact MMJ Electric!
The work that we do in the field is impeccable, but the world class service starts from the first moment you reach out to us. Anytime you need an electrician in Coral Springs, Florida give us a call at 954-876-1536 and we will take care of the rest.